AVAILABLE PUPPY PAGE
UPDATED 9/15/2018
---
A $100. NON-REFUNDABLE DEPOSIT WILL HOLD ANY PUPPY OF YOUR CHOICE UNTIL IT IS READY TO GO HOME . ( 8WEEKS )


---
AND PLEASE KEEP IN MIND IF YOUR CIRCUMSTANCES SHOULD CHANGE AND YOU DON'T HAVE A TRUSTED FRIEND OR FAMILY MEMBER THAT WANTS YOUR " MYSTICAL MERLE POODLE OR SCHNAUZER " WE ARE ALWAYS WILLING TO TAKE THEM BACK UNTIL WE CAN PROPERLY RE-HOME THEM....PLEASE NO SHELTERS!
OUR PUPPY ARE SOLD AS PETS . THAT MEANS NO PAPERS .
IF YOU WANT LIMITED OR FULL REGISTRATION PAPERS
THEIR IS AND EXTRA CHARGE AND A CONTRACT THAT THEY WILL NOT BE A CONFINED BREEDER.
THAT MEANS LIVING IN A ( YARD/CAGE/KENNEL ) THEY NEED TO LIVE IN A HOME AS PART OF THE FAMILY .


---
OUR PUPPIES COME GROOMED WITH UP/TO/DATE/SHOTS , TOY , FOOD , TREATS , TAIL & DEWS DONE . TAILS ARE LEFT LONG ( BOTTLE BRUSH ) ONLY 1/4 TO 1/3 OFF SO THEY ARE NOT THE SHORT POM POM TAIL . YOU CAN STILL CUT THE HAIR AND TRAIN IN A BALL IF YOU LIKE THAT LOOK . PEE PAD TRAINING STARTED AS SOON AS THEY LEARN TO GET OUT OF THEIR BED TO POTTY .


---


COMPANION/THERAPY

LITTER # 1 = Misty ( miniature poodle) is health tested she is 10 inches tall . Born 6/9/2018 will be ready at 8 weeks . August 4th

We have 1 Male still avalable in this litter could be cryptic Merle , cream $1200. the rest are sold . Ready for his forever home.

JESSIE IS THE SIRE

BLUE/PARTI HE IS 14 INCHES HEALTH TESTED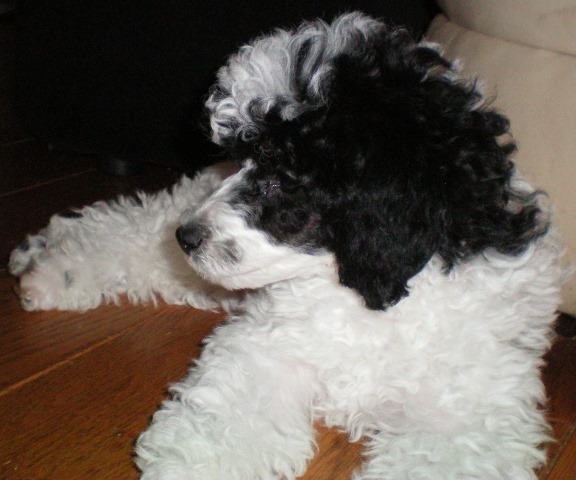 LITTER #2 = Georgia just had a litter with Jessie 3 males $800 & $900 each and 1 female $900 All black/abstract . Tails long feather and dews done . Ready for deposits at this time . Will be ready September 27th .
LITTER # 3 = November we are expecting a Merle litter Miniature/Moyen Poodles.
---
CONTACT STEPHENE ( STEFF )
CELL
541-912-4414
WE ARE IN EUGENE OREGON .
SOMETIMES SNOWBIRDS IN ARIZONA .WE DO NOT SHIP BUT YOU CAN HIRE A FLY NANNY .
$100. WILL HOLD YOUR PICK UNTIL HE OR SHE IS READY TO GO HOME AT 8 WEEKS .
CASH OR PAY PAL
541-912-4414
OR E-MAIL SMOGSTAD@YAHOO.COM